Families and individuals –
ALL of us must learn to respond appropirately
to media with sexual content.
Dallin H. Oaks said it best:
A primary reason for the growing problem of pornography is that in today's world, words and images with sexual content and influences are everywhere: they can be found in movies, TV programs, social media, text messages, phone apps, advertisements, books, music, and everyday conversations. As a result, it is inevitable that all of us are being exposed to sexualized messages on a regular basis.… ALL OF  US MUST LEARN TO RESPOND APPROPRIATELY  TO MEDIA WITH SEXUAL CONTENT... (Recovering from the Trap of Pornography, New Era Oct. 2015)
What method do you and your family use to "respond to media with inappropriate sexual content?" Like a Family Disaster Emergency Plan it is now necessary to have a Sexual Content Emergency Response Plan.
Natural Disaster and Sexual Content Response Plans are generally the same.
BOTH EVENTS ARE EXPECTED TO HAPPEN: A natural disaster and exposure to sexual content are going to happen to you and your family. The exposure to sexual content will happen sooner with much more frequency.
BOTH EVENTS CAUSE DAMAGE: A natural disaster damages property and health. Exposure to sexual content damages spirituality and causes addiction.
BOTH EVENTS ARE SENSITIVE TOPICS TO DISCUSS WITH CHILDREN: It's difficult to talk to a child about possible death and destruction of personal property caused by earthquakes, storms, etc. It's difficulty to talk to a child about sexual issues.
BOTH THE INDIVIDUAL AND THE FAMILY NEED A PLAN: Each family and family member need to be involved in generating a team plan of what to do personally and as a family when a natural disaster and / or sexual content occur.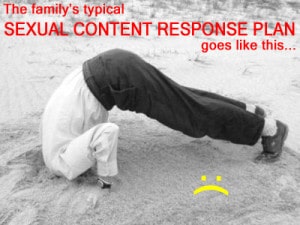 "A PRAYER AND A SONG" METHOD IS NOT ENOUGH
For years it seems the response plan for seeing "porn" has been: Control your thoughts – I've heard that forever! Then this advice would follow: when you become aware of inappropriate sexual content: "Think of your favorite church song and/or pray."
The "A Prayer and A Song" method isn't strong enough to successfully combat Satan's army of evil sexual messaging.
THE "THRU IT" METHOD WORKS
I use the "THRU IT" method. It's simple. It's effective. It incorporates techniques like mindfulness and knowledge of the brain. (And it allows for the use of "A  Prayer and Song" if you want it.)  
The THRU IT process is best initiated once you are aware of an upsetting sexual thought or feeling-a personal strategy for Sexual Content Emergency Response Plan. (THRU IT is also effective in managing non-sexual thoughts.)
I will review the basic steps here and go into detail in subsequent blogs about each individual step. Here are the steps:
When THRU IT is used regularly typically several times a day – your will power will strengthen and you will successfully "control your thoughts."
NOTE: Some mistakenly believe a "how to deal with pornography method" is all you need to pornproof kids. It is not. Having a personal strategy/method to respond to sexual messaging is one essential component to get you THRU IT. In addition, children will need to be inoculated by the five critical boosters: Body, Gender, Intimacy, Screen time, and Good and evil found in the Porn Proofing Kids inoculation model. The THRU IT method is an essential part of the Screen Time Booster. 
dr rick
(c) 2015