The Best Bishop Ever!
If he was your Bishop you would probably say something like "He is the best ever. He would do anything for anybody. He is always there when you need him. etc etc."
Bishop Smith had a busy ward. He had several complexes of low-income housing with a lot of movement and single/divorced moms. Another part of his ward was established busy families.  It seemed that every family that moved in or moved out received a visit from the Bishop. Of course he had a wife, a job and 3 children. Bishop Smith was going "from the morning unto the evening"  (Exodus 18:13).   He carried his cell phone everywhere and answered every call. He tried to have personal scripture study and prayers but usually just ended up falling asleep.  All too often he would miss Family Home Evening, his son's soccer game, and his regular temple visit  – because of a call for help from some member. After all he told his ward family "If there is anything I can ever do please call."
Bishop Smith learned:
"There's Just Not Enough of Me to Go Around!"
When I met Bishop Smith he was asking about possible medication – in particular an antidepressant. He was low on energy, feeling discouraged, and just couldn't get his life organized – I can't find the balance between my church job, my work and my family.
He described his life to look something like this: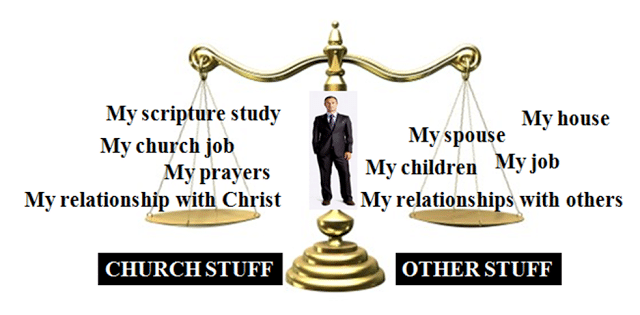 Why was Bishop Smith "
wearing away
" (
Exodus 18:18
) seeking an antidepressant?
He was doing the Lord's work wasn't he?
Why wasn't the Lord renewing Bishop Smith's strength and helping him "mount up with wings as eagles;… run, and not be weary; … walk, and not faint  (Isa. 40: 31) …
Why couldn't Bishop Smith be renewed  for example like Gordon B. Hinckley –

The Lord Enlarged Him, Expanded Him, Magnified Him!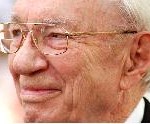 Gordon B. Hinckley overseen the building of the 21,000 seat Conference Center, the issuance of the Proclamation on the Family, and the creation of the church's Perpetual Education Fund. In all, Gordon B. Hinckley dedicated or rededicated 92 different temples — 87 while president of the church — at 97 different dedicatory services- including the historic Nauvoo Illinois Temple. At the time of Hinckley's death, approximately one-third of the church's membership had joined the church under Hinckley's leadership. ( Gordon B. Hinckley From Wikipedia.)
HOW DO WE GET "WINGS AS EAGLES"like Gordon B. Hinckley
It's actually simple. Dieter Uchtdorf reminds us:
"

FIRST

, our relationship with
God is

MOST

sacred and vital."
As we arrange our lives and priorities to look something like this: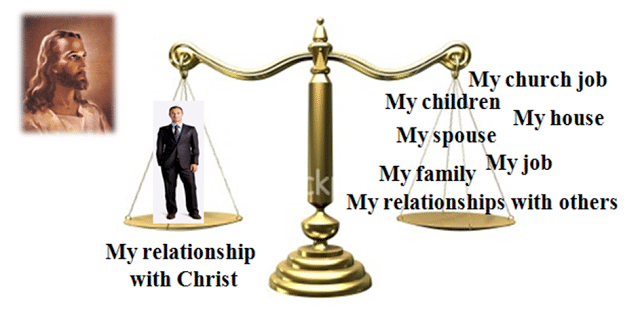 We will be renewed.
He raised Lazarus from the dead. (

John 11

)
etc etc
He made

MORE

of the fish and bread to feed thousands. 
And Jesus saith unto them, How many loaves have ye? And they said, Seven, and a few little fishes. And he commanded the multitude to sit down on the ground. And he took the seven loaves and the fishes, and gave thanks, and brake them, and gave to his disciples, and the disciples to the multitude. And they did all eat, and were filled: and they took up of the broken meat that was left seven baskets full. And they that did eat were four thousand men, beside women and children (Matthew 15: 34-38)
He can do the same for you and I.
There will be enough of me to go around.
CHALLENGE
LEARN more by reading the blogs:
My wife is not my number one priority;
Easy as 1,2,3…Unless an Angel tells you otherwise; and
When Caring Hurts.
DO say a personal prayer on your knees-just you and God.
If you sense a need for superpowers do it both morning and night.
(It will feel awkward at first as those you live with observe your new behavior.)
dr rick
dr rick's blog index