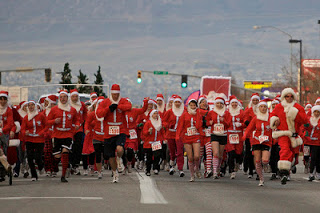 HERE COMES SANTA CLAUS.
The Jolliest 5K race in Ogden Utah. Hundreds of runners dressed as Santa Claus ran by as we watched.  Along the course the Santas received milk and cookies. Christmas Music played over head. Although it was dark and getting a little chilly, we stayed and watched the light parade –
horses, floats
etc. etc. And finally the main attraction "
Santa."
He arrived on a beautifully lit float. Then came the fireworks.
Christmas Season
is now official!
THE ZOO.
A few days after the Santa Parade I was driving home from an appointment and I called Karla to talk. She answered. I could hardly hear her because of the background noise. It sounded like a bunch of wild animals 🙂 I asked where she was. I thought she said "
The Zoo
." I asked again thinking I didn't hear correctly. She again replied, "
The Zoo
." I thought to myself – W
hat in the heck is she doing at the Zoo in December
? She went on to explain she was at a store Christmas shopping.  The noise was "the hustle and bustle" of crowds of people Christmas shopping and it was
"like a zoo."
 When Karla and others arrived home and emptied  the trunk– they had some really sweet toys-My eye caught a really cool remote control car.
They ask: WHAT DO YOU WANT FOR CHRISTMAS?
I respond: NOTHING, I DON'T NEED ANYTHING FOR CHRISTMAS!
If I'm hungry or thirsty – I just stop at the nearest In-N-Out and order the #2.
If I need a new shirt- I just tell Karla.
If I'm cold- I turn up the thermostat and turn on the electric blanket (They're great as I get older.)
If I need money- I grab the VISA.
If I get sick- I just go to the clinic and get an antibiotic.
So when I'm asked WHAT DO I WANT FOR CHRISTMAS?
I can't think of anything! Because if I really wanted something I would have already bought it.
If Christmas is only about getting and giving things  –
Then, I have had "

Christmas

" all year long!
Really, what else do I NEED?
Prosperity can deaden us to spiritual things. It can give us the illusion of power. When we are sick, we can go to a doctor and get healed. When we are hungry, we can feed ourselves. When we are cold, we can get warm. In short, most of the problems of life we can solve ourselves—we can answer many of our own prayers. Because of the relative ease many have in acquiring their daily bread, they can become deceived into thinking

they are saviors unto themselves

.

(

Improving Our Prayers

By Joseph B. Wirthlin Ensign March 2004)
And in other words President  Brigham Young said:
The worst fear that I have about this people is that they will get rich [and] forget God [and Jesus]. … This people will stand mobbing, robbing, poverty, and all manner of persecution, and be true. But my greater fear for them is that they cannot stand wealth. (Quoted in James S. Brown, Life of a Pioneer 1971, 122–23)
THE PROSPERITY CYCLE
There seems to be something in each us that when we have plenty we become lifted up in pride and forget the source of our prosperity. (Like the Book of Mormon prosperity cycle – He. 12:1-2,5.) We forget Jesus and our Heavenly Father,  who are the source of all our blessings. We give glory to ourselves. Forgetfulness is one reason why it is difficult for the "rich" to make it to heaven (Matt 19: 23-24; Luke 18: 21-25; Mark 10:17-27)
They have a
M

EMORY
problem not a
M

ONEY
problem
THEY FORGET HEAVENLY FATHER AND JESUS.
What
do
I
need
this
Christmas?
To
remember
Jesus'
birth.
That's all I need for Christmas.
CHALLENGE
PONDER: What if the "ONLY THINGS" you had this Christmas were the ONLY THINGS YOU THANKED GOD FOR LAST CHRISTMAS?
How big would your Christmas be?
P.S. By the way there is one example when riches did not lead to a spiritual decline in the Book of Mormon- check it out @ Alma 62:48-49.
dr rick